The largest women's leadership conference in Central Massachusetts, bringing together the most forward thinking female leaders.
Thursday, May 4, 2023
Tickets on sale Spring 2023
Time: 7:30am-4:00pm
Location: DCU Convention Center
2023 Sponsorship Opportunities Available Now
At the Chamber, and our WWLC committee, we have been impressed and grateful for the continued support of the conference sponsors. This is the event you want to be a part of! Reach out to Karen Pelletier for options.

The Worcester Women's Leadership Conference
This conference is an opportunity for women to build their careers and share their experiences with other women.
The Worcester Regional Chamber of Commerce has hosted the Worcester Women's Leadership Conference since 2009 in order to give women the tools to discover the possibilities available to them, lift each other up, and create a hub of smart, talented, and forward-thinking women.
Women in the workforce overcome obstacles each and every day and the Worcester Women's Leadership Conference is a place to share experiences and bring together dynamic, accomplished, and confident female leaders.
The programming of the day-long conference is designed to motivate attendees to overcome traditional barriers, to becoming influencers, change-agents, and leaders in their own fields.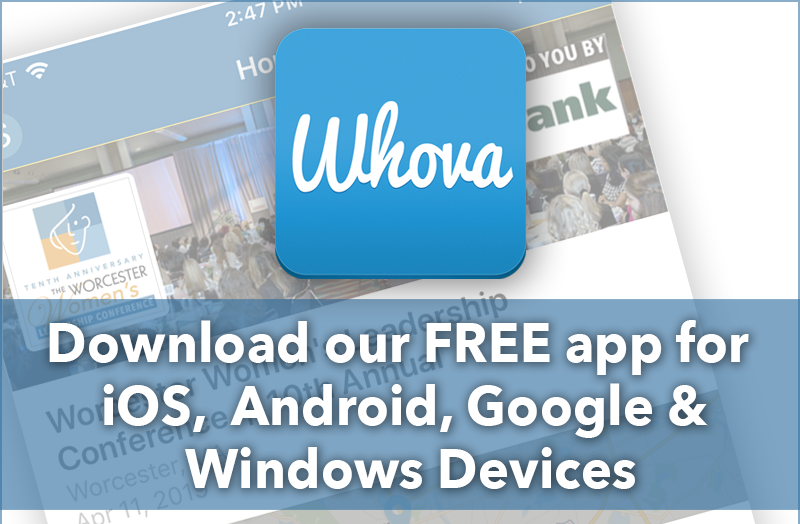 Get our official event app
For Blackberry or Windows Phone, Click here
For feature details, visit
Whova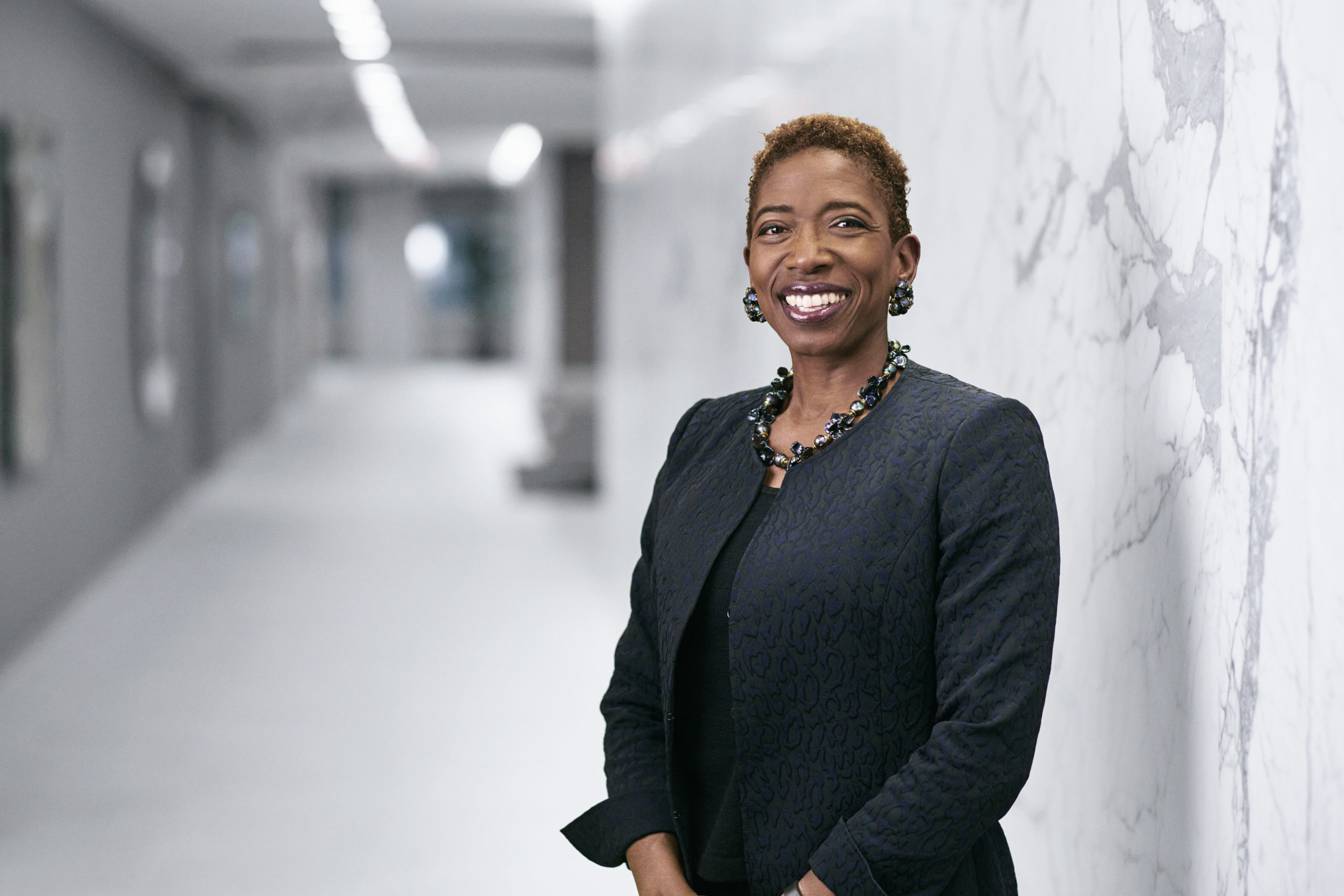 CARLA HARRIS
Vice Chairman, Managing Director – Morgan Stanley and author of Strategize to Win and of Expect to Win
In her 30 year career, Ms. Harris has had extensive industry experiences in the technology, media, retail, telecommunications, transportation, industrial, and healthcare sectors. In August 2013, Carla Harris was appointed by President Barack Obama to chair the National Women's Business Council.
Ms. Harris was named to Fortune Magazine's list of "The 50 Most Powerful Black Executives in Corporate America", Fortune's Most Influential List, U. S. Bankers Top 25 Most Powerful Women in Finance (2009, 2010, 2011), Black Enterprise's Top 75 Most Powerful Women in Business (2017), and "Top 75 African Americans on Wall Street", and to Essence Magazine's list of "The 50 Women Who are Shaping the World", Ebony's list of the Power 100 and "15 Corporate Women at the Top" and was named "Woman of the Year 2004" by the Harvard Black Men's Forum and in 2011 by the Yale Black Men's Forum.In her other life, Carla is a singer who has sold out concerts at the Apollo Theatre and Carnegie Hall.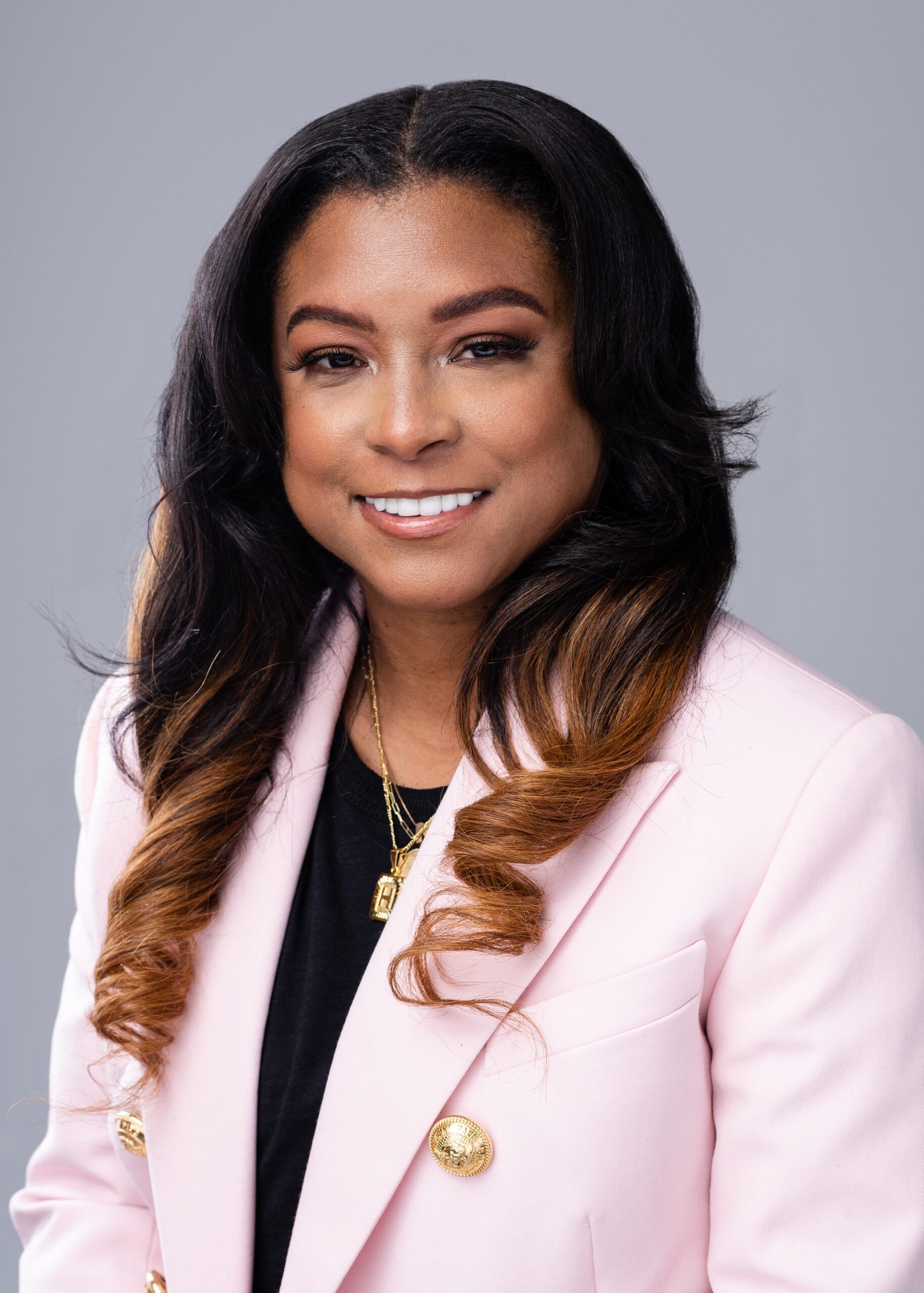 MINDA HARTS
Minda Harts is a Workplace and Equity Consultant. She is also the bestselling and award-winning author ofThe Memo, Right Within, and You Are More Than Magic. Minda is a highly sought-after speaker for companies such as Liberty Mutual, Nike, Google, and Salesforce. In 2020, she was named the Top Voice for Equity in the Workplace by LinkedIn. Minda hosts a live weekly podcast called Secure The Seat.
2023 Conference Schedule
May 4, 2023
| Time | Description |
| --- | --- |
| 7:15 AM | Registration (3rd floor), Coffee, Networking |
| 8:00 AM | Morning Keynote Speaker, Minda Harts |
| 9:45 AM | Break, Coffee, Networking, exhibitor marketplace |
| 10:15 AM | 4 Workshops: A/B, C/D, E, Junior Ballroom |
| 11:30 AM | Break, Coffee, Networking, exhibitor marketplace |
| 11:45 AM | Lunch |
| 12:30 PM | Break, Coffee, Networking, exhibitor marketplace |
| 12:45 PM | 4 Workshops: A/B, C/D, E, Junior Ballroom |
| 2:00 PM | Break, Coffee, Networking, exhibitor marketplace |
| 2:15 PM | Afternoon Keynote Speaker, Carla Harris |
| 3:15 PM | Reception, exhibitor marketplace |
| 4:00 PM | Adjourn |
PLEASE NOTE | Workshops have a maximum seating capacity. Please arrive in a timely fashion to ensure your seat. If the room is full, please attend a different session. Thank you.
Networking for Success | Sandra Kearney- CEO, Human Power Solutions
This interactive workshop will help women learn how to build a Level 5 network of people. It takes networking to another level.  This workshop gives tools to create the relationships which allow women to advance their careers in this time of change.
Each participant will receive a Networking One Pager to help define their reason for networking and the Before, During, and After Steps needed to achieve their goals.
There will be opportunities to network with others and practice with each other.
SANDRA KEARNEY is an experienced entrepreneur who has owned and operated several businesses. Sandy has spent the last 7 years in the Learning and Development space. She launched her own firm, Human Power Solutions in December of 2019. It was an immediate success due to her network and focus on client experience. Sandy's ability to network, serve others and connect people is a large part of her success. Covid-19 brought some new challenges but also exciting opportunities in the networking world. She has a master's degree in Organizational Leadership from Nichols College and a BS in Chemistry from Assumption University.
Sponsored by: Consigli
Finding the next version of the professional 'you' – Panel Discussion
Topic: How to achieve success when it's time to change careers.
Shifting what you do for a living is not easy – it's both exciting and scary.
Meet amazing women with very diverse professional paths. Hear what motivated them to make a change, how they approached it and what they have learned, now that they are on the other side of it.
Whether you are considering a career shift or just curious about the fascinating paths women's careers may take – you will enjoy this lively discussion.
Olga Brown, Transformation Program Manager at UMass Memorial Health, will moderate a panel of women with very diverse professional paths who have made successful career transitions and lived to tell about it!
Join Olga Brown from UMass Memorial Health in this morning workshop as she moderates a panel of women with very diverse professional paths who have made successful career transitions and lived to tell about it!
Your Voice. Your Story. Your Vision's Success. | Jennifer Hernandez, CEO, GEM Marketing Solutions
You've had this vision but bringing it to life seems to be a challenge. Where would I start? What would others think? All common hesitations that frequently paralyze great ideas from even beginning. In this session, you will learn the power of owning your voice, being vulnerable with your story, and staying true to your vision are the perfect mixture of consistent behaviors that will lead your vision to success.
JENNIFER HERNANDEZ is an ambitious serial entrepreneur, marketing professional, and speaker who is passionate about helping others succeed in their entrepreneurial journey.
Sponsored by: AOHNS
How to bet on yourself and win | Suzanne Graham Anderson-Founder & CEO, Positively Suzanne, LLC.
Have you ever made a decision that you were going to step out of your comfort zone, and bet on yourself and take charge of your career, but you held back because you thought:
1. I should wait until it is my turn!
2. What will everyone think?
3. What if I don't have what it takes?
You are not alone, oftentimes women hold back on betting on themselves and taking charge of their careers because they are afraid of rocking the boat, so they hold back which can lead to frustration and burn out.
But, what if you decided to take a chance and bet on yourself, and decided that you are going to win? Well now you have joined another league of women who have done it and are thriving!
How to be a Financial Badass in your 50s and Beyond | Julianne Hertel, Owner, Financial Advisor-Dream Big Wealth Strategies, LLC and Katie Dorval, Estate Planning Attorney, Bowditch and Dewey
As life changes, our focus will also shift as we look towards our future in regards to our family, our money, and our dreams.  Attorney Katherine Dorval and Financial Advisor Julianne Hertel will share the things women should focus on in their second half to make sure our dreams come true.
JULIANNE HERTEL owns Dream Big Wealth Strategies in Worcester, specializing in wealth management and financial planning.  Her clients are the dream-chasers and the world-changers – the people that wake up every day and make the world a happier and better place. KATIE DORVAL is an established estate planning attorney at Bowditch, helping individuals, couples and families with estate, trust, business succession planning and other complex estate and administration needs. Katie's expertise includes traditional estate planning documents such as wills and trusts, but she also routinely advises clients regarding asset protection, real estate holding entities, limited liability companies and family limited-partnerships.
Sponsored by: Webster Five
Building a Sense of Community | Sheri-Ann McLean, Founder and CEO, McLean Coaching and Consulting
Imagine if we lived and operated in isolation. How productive and effective would we be? Post-pandemic, people need to feel like they belong regardless of their background, race, or color. In this presentation, I will take you on a journey to examine the key components that connect us in the workplace, lessons we can learn from ants, how we can build communities in our workplace, and the positive outcome of these communities in the workplace.
SHERI-ANN MCLEAN is the Founder and CEO of McLean Coaching and Consulting, LLC. She was born and raised in Jamaica. One of her many passions is to help people be the best version of themselves. With over eight years of leadership experience, she has consulted, trained capacity-building in at-risk communities, facilitated training for educators in inner-city neighborhoods, led teams through change, implemented stabilization plans in programs, trained in the leadership institute, and built a sense of community. Sheri-ann is a Ph.D. candidate who enjoys spending time with her family, traveling, singing, reading, and writing books and poetry.
Sponsored by: Saint Gobain
Career Stops, Starts, and Idles: Strategies for Navigating and Embracing the Journey | Leanne Rodd, Director of Talent & Ashley Moore, Director of Client Sales & Service for FlexProfessionals Boston
Careers are journeys, and often include breaks, restarts, and pivots. During this discussion, panelists will offer advice and strategies from their own experiences on planning and executing a career change, including tips for personal assessment, networking, building confidence, and understanding how to effectively market transferrable skills.
LEANNE AND ASHLEY have years of experience in the corporate and educational sectors. Prior to coming to FlexProfessionals, they both had career breaks and career pivots and bring these experiences and knowledge to the candidates and clients they serve. Leanne is a certified career coach and has an MS in Training & Development from Lesley University. Ashley has an M.Ed. from Merrimack College, an MST from Bentley University, and a BS in Corporate Finance and Accounting from Bentley University.
Sponsored by: VHB
Your Story Sucks...the Happiness Right Out of You | Carrie Rowan- Tell A New Story, LLC.
You may be surprised to learn that the way you tell your life story could be precisely what is making you feel stuck and holding you back from living your best life both personally and professionally! Join International Best-Selling Author and Edutainer, Carrie Rowan, for a unique combination of soul-centered stories, heart-felt songs, and meditative wisdom that will elevate you to become aware of the stories that don't support you and inspire you to write a new and empowering one that brings you joy when you tell it. Based on her highly acclaimed book, Tell A New Story, Carrie shares simple tips and tools you can use every day to release your negative stories and bring more joy to your life so you can start to feel better and tell a new story about what you want that not only inspires you, but everyone around you as well.
CARRIE ROWAN is an International Best-Selling Author, Speaker, Award-Winning Singer/Songwriter and Edutainer, sharing her unique talents of entertaining while educating audiences on stages across New England and beyond. She is a Certified Mindset Energy Coach and Meditation teacher whose clients have dubbed her "the Professor of Happiness and Joy!" Carrie has appeared on CBS, CTV News, NECN, OM Times Radio, WATD, WTAG, MVY Radio, WOMR, Natural Living Expo, iHeart Radio, iTunes and Spotify. Carrie hosts the popular Podcast/Syndicated Radio Show called Look for the Good with over 14,000 listeners. Her ethereal voice and music span radio stations across the globe!
Sponsored by: Open Sky






Women's Initiative of UWCM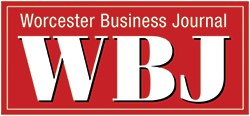 Benefitting Charity Sponsor

BE A PART OF #WWLC2023
2023 PRICING 

|  Chamber Members GA: $250  |  Non-Members GA: $300
   Member Reserved seating for 10 (Ten attendees): $3,000  
Non-Member Reserved seating for 10: $3,700 
*You will be redirected to the Chamber of Commerce website where you will be able to register and pay for your ticket. If you are not a Chamber member, click "Not a Member" on the following screen to continue registration.